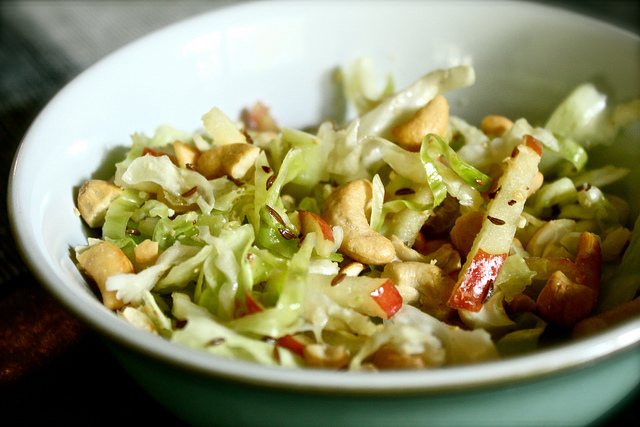 photo provided courtesy of affairsofliving.com

Simple slaws are ideal for every season of the year. They are crunchy and light, yet satisfying and filling, and endlessly adaptable to a variety of seasonal produce. Despite this, my favorite time of year for slaws is late summer and fall, when farmers markets are bursting with fresh, crisp cabbages. The sweet, glistening, unblemished leaves tempt me from every vendor table, and inevitably, I go home with a weighty cabbage in my market basket.
I was inspired to combine my beloved green cabbage with another locally grown favorite, the spectacular Honeycrisp apple. The Honeycrisp was developed by the University of Minnesota's Horicultural Research Center in the 1970s, and has won a devoted following of fans. There are a number of wonderful orchards in the Minnesota and Western Wisconsin that grow this apple, and every year I anticipate the arrival of locally grown Honeycrisps at my farmers market and co-op. The flavor is sweet like honey and slightly tart, and it has a marvelously crisp, juicy texture that is, in my opinion, the sign of a perfect apple. Equally good for eating raw or baking, Honeycrisp is one of my favorite apples, hands down.
The combination of sweet, fresh cabbage, sweet and tart apple, plump golden raisins, toasted caraway, and a hint of nutmeg in this slaw is magic. It only takes minutes to prepare, and it holds up in the fridge for 2 days without becoming soggy.
Oh me oh my, autumn tastes so good.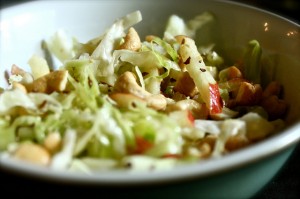 Use the freshest cabbage possible for the sweetest flavor and crunchiest texture. The older the cabbage, the more moisture it loses, creating a limp, unpleasant slaw.
ingredients
• 1 small head green cabbage
• 1 large tart, crisp apple (such as Honeycrisp)
• 1/4 cup golden raisins
• 1 tablespoon olive oil
• juice of one small lemon
• 1 tablespoon caraway seeds, toasted
• 1 pinch freshly ground or grated nutmeg
• unrefined salt, to taste
• optional: 1/2 cup salted roasted cashews (or other nut or seed), lightly chopped

directions
Toast caraway seeds in a small sauté pan over medium heat, until seeds are fragrant. Remove from heat and let cool.
Slice cabbage in half lengthwise, and cut out core. Thinly slice lengthwise to create very thin, long strips of cabbage. Place in a large bowl. Core and halve apple, then cut into thin matchsticks. Place in bowl with cabbage, and immediately toss with the lemon juice and olive oil (lemon juice will prevent browning). Add raisins, caraway seeds, and nutmeg, then toss to combine. Season with salt to taste.
Let sit for 30 minutes to let flavors combine, the add cashews and serve. If making in advance, combine as directed, then cover and place in refrigerator for up to 12 hours. Remove from fridge 15-30 minutes before serving, then add cashews and serve. Leftovers will keep well in refrigerator for up to 2 days.
serves 4

recipe courtesy affairsofliving.com