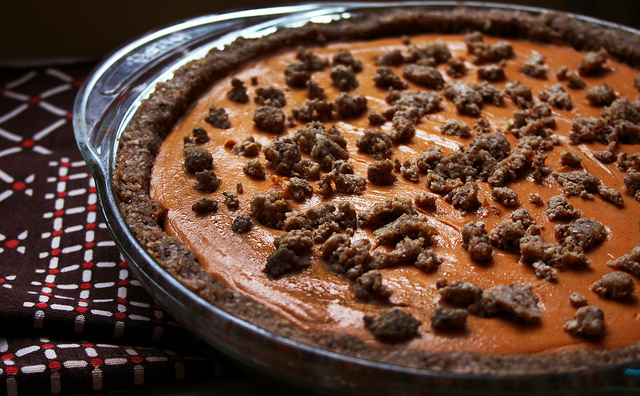 photo provided courtesy of affairsofliving.com

The original recipe for this pie was published in my 2011 recipe calendar A Year to Eat Freely. It was a really fun recipe project that I had for sale through Etsy. While I won't be publishing another calendar for 2012, I really enjoyed the learning process and experience of creating the first calendar.
I made a few tweaks to the original recipe and wanted to share it with you. It is different than a traditonal sweet potato pie that is baked, but has its own distinctive flavor and texture that is very good. It would be perfect for your holiday table.

filling ingredients
• 3 cups cooked sweet potato puree (from about 2 1/2 pounds sweet potato, or 3 large)
• 1 1/4 milk full fat coconut milk or other non-dairy milk (a fattier milk like nut milk or hemp milk is better)
• 1 teaspoon agar agar powder or 1 teaspoon unflavored powdered gelatin
• 1 tablespoon melted coconut oil, ghee, or other neutral-tasting oil
• 1 teaspoon gluten-free vanilla extract
• 30-40 drops plain or vanilla stevia liquid
• 3-4 tablespoons honey, maple syrup, or agave nectar
• 1/2 teaspoon sea salt
• 2 1/2 teaspoon ground cinnamon
• 1/4 teaspoon ground nutmeg
crust ingredients
• 3 tablespoon finely ground chia seeds
• 1 1/2 cups raw sunflower seeds
• 1 1/2 cup unsweetened finely shredded coconut
• 1/4 teaspoon sea salt
• 1/4 cup maple syrup, honey, or agave nectar, or more to taste
• 25-30 drops plain or vanilla stevia liquid
• 1 teaspoon ground cinnamon
• 3-4 tablespoons apple cider or apple juice

directions
Bake the Potatoes: Heat oven to 400° F. Pierce each sweet potato several times with a fork. Place the sweet potatoes on a rimmed baking sheet lined with foil. Bake until tender, about 45 minutes. Remove from oven and let cool for 10-15 minutes.
Prepare Crust: While sweet potatoes cool, prepare crust. Lightly toast seeds and coconut in batches in a large dry sauté pan over medium heat, stirring often until lightly golden then remove from heat and let cool. Place cooled seeds and coconut in food processor, along with ground chia seeds, cinnamon, and salt, and grind until fine. Whisk together apple cider, maple syrup/honey/agave nectar, stevia, and vanilla in a small bowl. Pour into food processor with machine running, until it forms a sticky dough, stopping to scrape sides as needed. Add more apple cider/juice by the tablespoon if mixture is too dry. Let sit for 5 minutes.
Lightly oil a glass pie plate. Reserve 2 tablespoons of the seed mixture, then press remaining mixture firmly on the bottom and sides of the pie plate, smoothing with wet fingers or a silicon spatula, forming a thick, even crust. Set aside as you prepare filing.
Prepare Filling: Scoop out sweet potato flesh and place in a blender or food processor, and process until smooth. If too thick or dry, add a small amount of apple juice, apple cider, or water by the tablespoon until mixture moves smoothly. Scoop out 3 cups to use for filling, and save any extra for other recipes.
Sprinkle agar agar or gelatin over 1/4 cup of coconut milk and sit for 5 minutes, then whisk vigorously. While it sits, bring remaining 1 cup of milk to a boil in a saucepan. Add whisked gelatin/agar agar liquid and stir while simmering, whisking until fully dissolved, about 3-4 minutes. Add hot milk mixture to a food processor blender along with sweet potato and remaining filling ingredients. Process until totally smooth, adjusting sweetener to taste.
Assemble the Pie: Spread filling evenly into prepared crust, smoothing with a spatula, then sprinkling top of pie with reserved seed mixture. Place in the refrigerator and cool for at least 4 hours, until filling is firm. Remove from refrigerator and let sit out for 15-20 minutes before serving. Store in the refrigerator.
makes (1) 8- or 9-inch pie

recipe courtesy affairsofliving.com