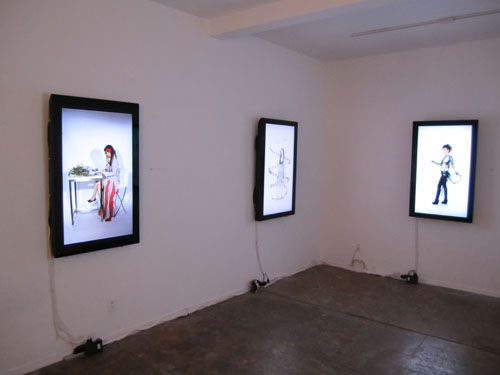 Performance artist Monet Clark's most recent show, "California Girl" at the Krowswork Gallery in Oakland, California is getting great reviews. The show is a retrospective of 20 years of work that details her body's visible descent into environmental illness, as well as her recovery. Monet juxtaposes images of herself as a malnourished, skeleton-like wisp of a person on the brink of death with a fleshier, healthier version of herself in sexy, provocative poses.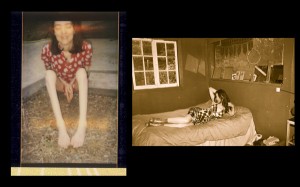 In their review The Fine Line Between Sexy and Sickness, Hyperallergic Gallery writes "Clark's work explores the tension between the power of the female body, society's efforts to control it and the betrayals of the mortal body when it exerts its own will."

Stretcher, an online publication that encourages dialogue about contemporary art and visual culture in the San Francisco Bay Area, had this to say about her show:
You have only two more weekends to see Krowswork's current exhibition – Monet Clark: California Girl – A Retrospective Debut; a remarkable show that indeed eschews the format of coming out party and survey. Representing 20 odd years – and I do mean odd, including an homage to stripper culture and the harrowing years suffering from a nearly fatal struggle with chronic Environmental Illness – it somehow seems like both those things."

The East Bay Express included her in their Top Picks, as did the online art journal Squarecylinder.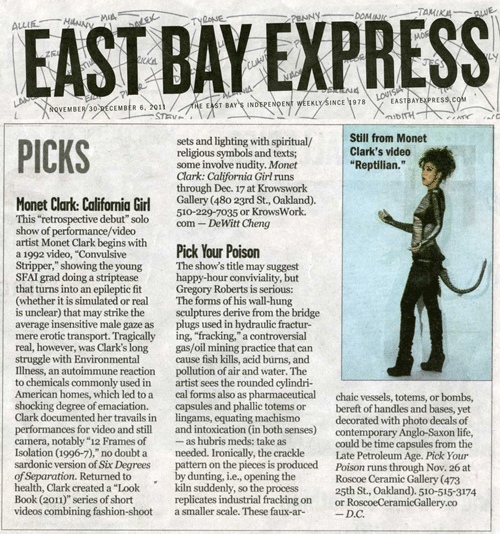 All this press, in just the past few days. Planet Thrive congratulates Monet: for getting her work out there, helping to spread awareness about the devastation of environmental illness, and especially, for her miraculous recovery.