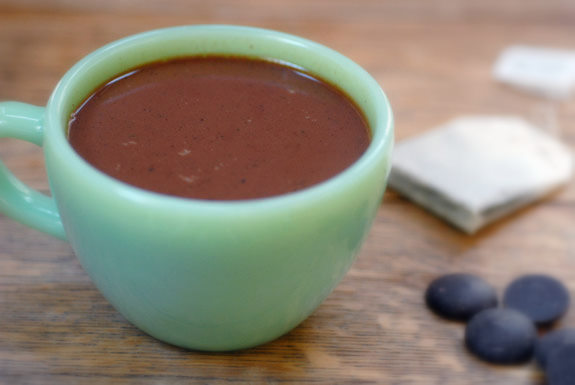 Homemade and dairy free Peppermint Hot Chocolate to keep you warm and cozy on a cold winter's night.
photo provided courtesy of elanaspantry.com

Peppermint Hot Chocolate is easy to make, and far better than the instant hot chocolate that comes in a package, which is loaded with sugar and definitely not dairy free.
Additionally, I find this soothing and healthy beverage to be a great substitute for all of the peppermint candy floating around this time of year.
I make this dairy free hot chocolate with coconut milk, and thankfully, it does not contain a coconut-ish flavor; it is a rich and chocolatey hot beverage. Use a high quality organic chocolate for a healthier and tastier result.
This Peppermint Hot Chocolate recipe is easy to make and full of nutritious ingredients –just don't tell your children!

ingredients
¼ cup coconut milk (canned)
1 ½ cups water
¼ cup dark chocolate chips
1 tablespoon honey
3 peppermint tea bags

directions
In a saucepan bring coconut milk, water, and peppermint tea to a boil
Reduce heat and simmer for 15 minutes
Remove from heat and remove tea bags
Stir in chocolate chips and honey, mixing until melted
Pour into mugs
Serve
Dark chocolate is a great treat during the holidays when we are inundated with sugary, unhealthy desserts.
Chocolate is a functional food that is both low on the glycemic index and full of powerful antioxidants. The heart healthy flavonoids in dark chocolate lower blood pressure and decrease blood clotting. It is also thought that dark chocolate fights cardiovascular disease, as well as premature aging and cancer.
Go ahead and get yourself some chocolate, and let us know what your favorite dark chocolate recipe is.

Serves 2

recipe courtesy elanaspantry.com