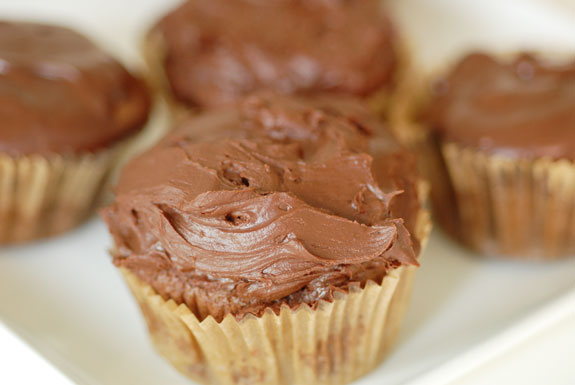 Grain free, gluten free chocolate cupcakes made with coconut oil for your Paleo celebrations.
photo provided courtesy of elanaspantry.com

These grain free Paleo Chocolate Cupcakes are a wonderful occasional treat — perfect for a birthday celebration. I've also made this a nut free cupcake for those of you with little ones who have a nut allergy, or go to a school with a nut-free policy. Of course this is a gluten free cupcake.
Made with coconut oil, this treat is dairy free as well. While I've been on a grain free diet for over a decade, my recipes continue to evolve within the grain free genre, as I learn more about various healthy foods. While I've always liked coconut oil, for the past year or so my focus has been on eating as much coconut oil as I can. Sometimes that means eating it straight out of the jar, other times I add it to everything I cook — most days I do both.
A good deal of anecdotal evidence points to coconut oil as a fabulous brain food. Here's a video that explains my coconut oil fixation.
Did you ever notice that the rise of various brain disorders (ADD, Autism, Alzheimer's, Parkinsons, etc.) happened to take place in the late 1980's and early 1990's when fat free was all the rage? I think a lot of people's brains were possibly malnourished by the pervasive lack of fat in the Standard American Diet during this period.
Here's some good fat for y'all; I hope your family enjoys these gluten free, grain free, dairy free (coconut oil rich) chocolate cupcakes as much as we do.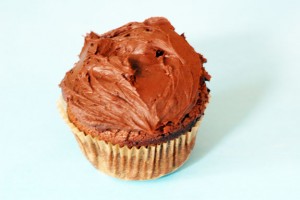 cupcake ingredients
¼ cup coconut flour
¼ cup cacao powder
¼ teaspoon celtic sea salt
¼ teaspoon baking soda
4 eggs
¼ cup coconut oil
⅓ cup honey

frosting ingredients
1 cup dark chocolate chips
1/3 cup coconut oil
1 tablespoon vanilla extract

cupcake directions
Pulse together dry ingredients in a food processor
Pulse in wet ingredients
Line a muffin pan with paper liners and scoop ¼ cup into each
Bake at 350° for 15-18 minutes
Cool and serve

frosting directions
In a small saucepan over very low heat, melt chocolate and coconut oil
Stir in vanilla extract
Place frosting in refrigerator for 15-30 minutes to thicken
Remove from refrigerator and whip frosting with a hand blender until thick and fluffy
Frost over cupcakes
makes 8 cupcakes

recipe courtesy elanaspantry.com