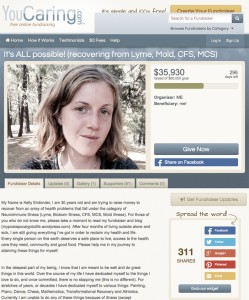 Planet Thrive member Kelly Einbinder is a 30-year-old lyme disease, biotoxin illness, chronic fatigue syndrome, and multiple chemical sensitivity patient. Kelly has been struggling with homelessness and survival this year, but I have been out of the loop in recent months since I closed my Facebook account. I came upon her fundraiser effort earlier tonight by chance, and was super impressed to find her efforts to save her own quality of life so successful. We all know how difficult fundraising is when you are disabled by chronic illness – especially conditions that are not taken seriously and are typically viewed as self imposed mental illness by family and friends uneducated about biotoxin illness, a very real and disabling syndrome. According to Kelly's fundraiser page, as of tonight she has raised over $35K of her $60K goal. Go Kelly!
Kelly's success with raising funds may have had its roots in the fact that she started blogging about her experience with homelessness and chronic illness in July 2014. Although she only posted a few times since then, her writing was stunningly honest and hopeful, and her readers fell in love with her spirit and insistence on her own worth. Although she does not mention this on her fundraiser page, most who know Kelly are aware that she is currently processing the suicide of her ex-partner in late July 2014, another lyme disease sufferer faced with homelessness in the midst of severely debilitating symptoms, who fought valiantly – but unsuccessfully – for their own life.
Imagine being all alone in the wilderness trying to manage chronic disabling illness in a tent, and finding out your most recent partner has taken their own life because they found themselves in dire circumstances similar to the one you now find yourself in. You pretty much have two choices: to cave into the overwhelm or to let the experience solidify your commitment to fulfilling your own life purpose. Kelly chose the latter. This woman has incredible inner strength to have survived all that she has to date.
On her fundraiser page on youcaring.com, Kelly has outlined all her financial needs, stating clearly what her illness requires, without apology. Never in her writing does she take a victim, woe-is-me, pity party stance. Her words always come from an empowered place, with an undying belief in her own future, and a belief in the right of all neuroimmune cluster illness sufferers to have access to healthy food, clean air, safe housing, emotional support systems, and health care.
We can all take a cue from this beautiful spirit on how to fight for our own lives, our own value and worth. Kelly has immense struggle ahead of her, but she believes in her future and so do we. Please donate if you can so she can get through the next couple years while she awaits social security disability benefits. Many blessings to you, Kelly!