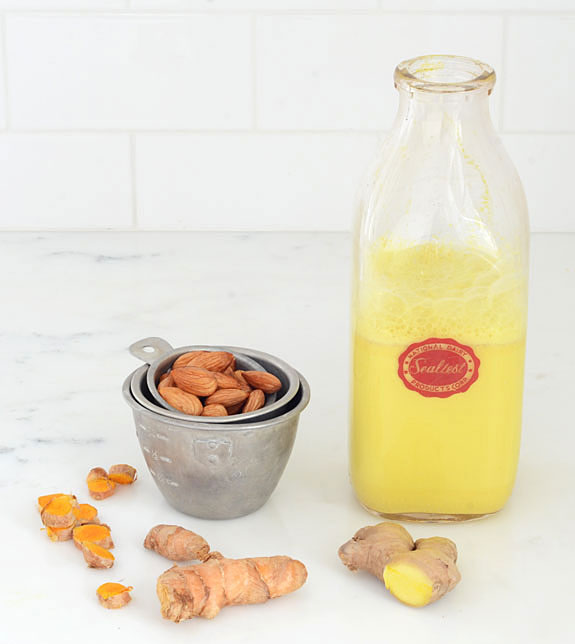 Golden Turmeric Root Milk will brighten even the dreariest of days with its gorgeous hue. What is turmeric root? Turmeric root has brown skin and brightly colored orange flesh, and looks similar to ginger root. It has a slightly bitter, delicately spicy flavor. The ground spice turmeric, found in most kitchen spice drawers and used in curries, comes from turmeric root.
Turmeric is incredibly healing and contains a substance called curcumin that has amazing anti-inflammatory properties. Its effects have been likened to those of anti-inflammatory agents such as aspirin, without the toxic repercussions of non steroidal anti-inflammatories (NSAIDS). Curcumin's anti-inflammatory properties are thought to combat inflammatory bowel disease (IBD), rheumatoid arthritis (RA), and cancer.
Like dandelion root, turmeric is thought to aid in detoxifying the liver. That's why I often use this golden milk in my Dandelion Root Coffee or my Instant Dandelion Latte. I enjoy eating delicious functional foods that are both nurturing treats and incredibly healthy.
ingredients
1 cup almonds
2 cups water
¼ cup turmeric root, sliced
1 tablespoon ginger, sliced
directions
Soak almonds overnight in several cups water
Discard soaking water and rinse almonds in a deep bowl of water, repeat until water runs clear
Place soaked almonds, 2 cups water, turmeric root, and ginger root in a vitamix
Blend on high speed for 60 seconds
Strain milk through a nut milk bag, save pulp to make cookies or crackers
Serve
makes 5 cups turmeric root milk

When I make this deliciously healthy golden milk I do not bother to peel the skin from the tumeric root or the ginger root. Why create more work and waste a perfectly good, edible part of these precious healing foods? Sometimes I add a few drops of vanilla stevia to this recipe. If you don't care for stevia, blend in a couple of dates before you get to the straining step of the recipe. Feel free to experiment with other nuts when you make this milk. I used Brazil nuts and it was delicious. Turmeric Root Milk lasts somewhere around 2-3 days in the refrigerator.
I purchase fresh turmeric root at various local grocery stores here in Boulder. I find that it is not regularly stocked at any of them and sometimes I have to look around from store to store to find it. I'm often asked how to use turmeric root. In addition to making this turmeric milk, sometimes I push turmeric root through my juicer along with my daily juice which is full of incredible antioxidants and micronutrients. If you are too timid to make turmeric root milk and you live in Boulder, swing by Wonder Press as they make it often and their date sweetened version is delicious!
What are your favorite turmeric root recipes?
recipe courtesy elanaspantry.com