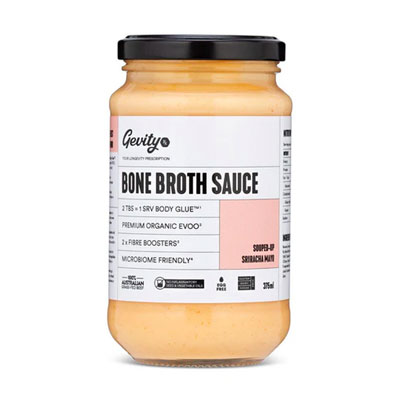 We are kicking off our new "Product of the Month" highlight with Bone Broth Sauce by Gevity Rx, which comes in several flavor profiles: Souped Up Sriracha, Great Guts Mayo, Better Belly BBQ, and Total Tummy Turmeric. It's basically a mayo but what makes it so special is that it contains their Bone Broth Body Glue™. Somebody at Gevity Rx is a genius and came up with a way to make a low histamine concentrated bone broth paste that contains at least 10x the amount of amino acids and other nutrients as regular bone broth.
They use a completely unique proprietary process that was formulated by continuously testing the finished product for the absolute maximum nutrient density possible.
It involves various cooking temperatures at specific times as well as other proprietary processes to purify and filter the bone broth to a point where the nutrients drawn out are so thick they literally stick to spoon.
They only use bones, herbs and spices to flavor, and naturally evaporated sea salt to help preserve it. No water, no vegetables or fillers to thicken it. Because they don't use meat — only the bones — the product is not high in histamine, as other slow cooked products can be. All of their products are made from only 100% Australian grass fed and finished cattle – from the beautiful Darling Downs region. All bones are also hormone and antibiotic free.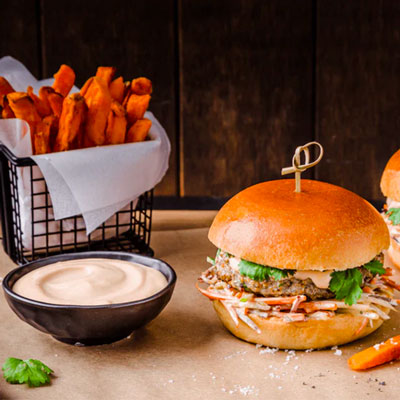 They also offer a range of Body Glue™ (concentrated Bone Broth paste) and marinades in various flavors. They are located in Australia but they do ship internationally.
I recently received my first order of Souped Up Sriracha Bone Broth Sauce, and Boost Body Glue™. I was immediately addicted to the mayo. The jar is already half gone and it hasn't even been a week! I'm going to be placing another order very soon, for several jars. I've been eating it with my fries, sandwiches, burgers — anything that could use a sauce or mayo to liven it up! I was concerned the spice level would be too high but they have really perfected their product. It's the perfect amount of heat without being overwhelming to my taste buds. Judging by all the reviews, many other people agree with me on that.
Visit their website to see their entire product line: https://au.gevityrx.com/.
Check out more health-supportive products hand-selected by us, just for you, in our Planet Thrive Lifestyle Directory.