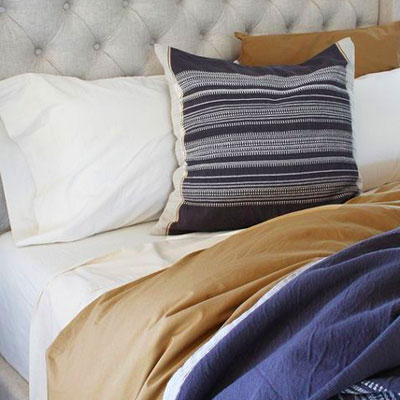 This months' spotlight is on Coyuchi, the pioneer of organic cotton in home textiles. Coyuchi is committed to ensuring that everything that bears the Coyuchi label is produced and processed to the strictest standards in safe and humane conditions — from the farm to the factory, to their customers' homes. Their textiles are organically grown without the use of pesticides or synthetic fertilizers.
A major thrust of Coyuchi's mission is sustainability and I love that all of their products begin with 100% organic fibers and a traceable supply chain. They also have a line that reuses textiles, and all of their 2nd Home Renewed™ products are Coyuchi linens that have been returned to them through their 2nd Home Take Back™ program. Their partners at the Renewal Workshop take great care to clean these items, check for flaws, and repair them to be as good as new. If the material is too damaged to be used again, it is earmarked for recycling.
Coyuchi's impressive certifications include:
The Global Organic Textile Standard (GOTS) is the top certification for ecologically and socially responsible practices throughout every step in the supply chain of textiles.  
The MADE SAFE® seal confirms that a household product is free of any and all toxins known or suspected to harm human health, animals, or ecosystems. Certified goods have been thoroughly examined by researchers and scientists to ensure they're made without known behavioral toxins, carcinogens, developmental toxins, endocrine disruptors, flame retardants, heavy metals, neurotoxins, high risk pesticides, reproductive toxins, toxic solvents, or harmful VOCs.
Fair Trade Certified™ partners provide traceable and transparent supply chains, and ensure sustainable livelihoods to the people who create Coyuchi products. These initiatives strive to implement income equality, community and individual well-being, empowerment, and environmental stewardship for farmers and working communities.
1% for the Planet is a global network of businesses, organizations, and individuals working together to catalyze positive change for the environment. As members of 1% for the Planet, Coyuchi contributes directly to their choice of carefully vetted nonprofit environmental organizations in the network, which are approved based on referrals, track record, and environmental focus.
The Global Organic Latex Standard (GOLS) ensures that all certified latex products are not only natural and at least 95% organic in origin, but that they follow a traceable path of environmentally and ethically sound practices from beginning to end. Starting at the farm and continuing all the way throughout processing, handling, packing, and labelling, extensive records are kept at each stop in the supply chain and are subject to annual audits by an independent third party. 
Fibershed works to close the loop of fiber manufacturing by decentralizing the textile supply chain and supporting regional farms and ranches. They're bringing the "local" movement to the textile industry by developing regional and regenerative fiber systems on behalf of independent producers, and helping farmers implement carbon farming to reduce greenhouse gas emissions—like The Jensen Ranch and Stemple Creek Ranch from which Coyuchi's Climate Beneficial™ Wool collection is sourced. 
I have personal experience as a long-time customer of Coyuchi. Some of you may know that for many years, I had a severe sensitivity to bedding, particularly organic cotton. I was unable to sleep on a mattress or use sheets or blankets. With the help of brain retraining, I was able to start using bedding again around ten years ago. I now sleep on a mattress and have sheets, a duvet and blankets — all from Coyuchi. They are still the only company I have found where I can be sure I will tolerate their bedding and textiles. Though they are pricey, they sometimes have sales. They currently are having a warehouse sale with up to 70% off on some items. I always wait for a sale to buy my sheets and other bedding products. I've never been disappointed with their products and I feel immense gratitude to this company for making beautiful bedding that is non-toxic and safe. If you use the Planet Thrive link to visit Coyuchi's website, you will get $60 off your first purchase of $300 or more.