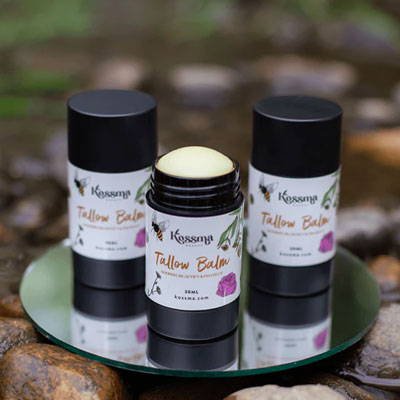 This month I'd love to celebrate Kossma Beauty, a skincare company that blends fresh pressed saturated oils, clean actives, ancient resins & medicinal herbs to create small-batch, chemical-free products for face and body. Founder Stephanie Peña uses whole plant extracts in her formulas, which are hormone friendly and great for sensitive skin. Their animal based beauty approach avoids seed oils and essential oils, both commonly used in the holistic skincare industry. What sets them apart from other natural skincare brands is that they use animal fats and low PUFA (polyunsaturated fatty acid) oils that provide bioactive nutrients such as vitamins A, D, E, and K, as well as balanced fatty acid profiles that allow the skin to glow from the inside out. They also believe that there are greater benefits in using the whole plant and all of its constituents rather than just the essential oils, which contain only the volatile compounds of the plant
I have used their product line for over two years, following the Kossma Beauty Method daily. Here is a summary and you can find the detailed instructions on their website:
Kossma Beauty Method
Step 1: Cleanse
Remove daily dust and grime buildup using one of their cleansing gels: Chamomile Cleansing Gel • Butter Cleansing Oil.
Step 2: Serums
Deliver targeted plant actives to the skin depending on your specific need: Purely Potent VItamin C • New Moon • Calendula Extract • Sacred Skin Acne Serum.
Step 3a: Hydrosols | The Damp Skin Method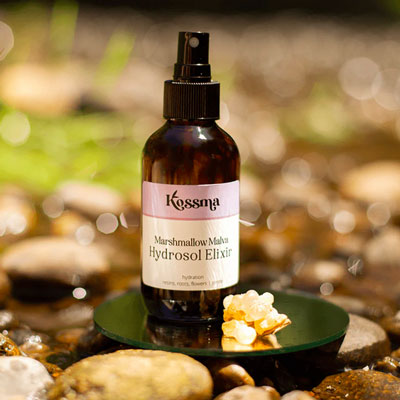 Hydrosols contain the water soluble constituents from their plants (vitamins, minerals, herbal compounds, etc.) and they hydrate the skin without any synthetic ingredients. Our skin needs both hydration (water) and moisture (oil) and hydrosols provide the water/hydration part of your skin care routine. Immediately follow hydration with an oil from Step 3b, otherwise the hydrosol will just evaporate off of your skin.
Step 3b: Moisturizers
Replenish your skin's moisture with one of their moisturizers: Reishi Rose • Genesis • Sacred Skin • Lovely Lipids • Squalane.
Step 4: Balms
Balms seal and lock all the products you just applied to your skin in place, creating a protective occlusive barrier while also nourishing and deeply moisturizing with their wonderful extracts, butters and oils: Tallow Balm • Sovereign Salve • Nilotica.
I've gotten a lot of compliments on my skin while using these products. My favorites are the Marshmallow Malva Hydrosol Elixir, Squalane Oil, and Tallow Balm. They offer a 30 Day Money Back Guarantee — if you don't LOVE your Kossma Beauty products, they will either exchange or refund your order. Get $15 off your first order!