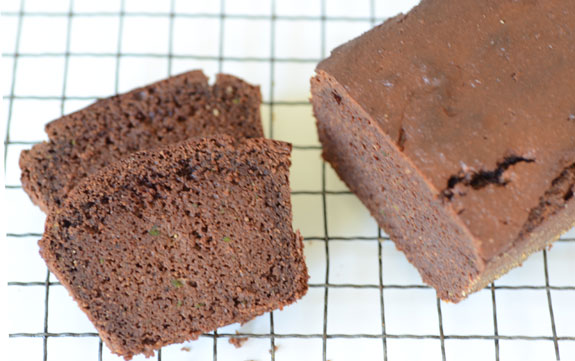 Keep this Chocolate Zucchini Bread recipe in mind when your garden explodes with zucchini this summer. photo provided courtesy of elanaspantry.com

I've created this Paleo Chocolate Zucchini Bread recipe to help gobble up all of the zucchini that emerges each summer in our gardens and CSA shares. This is a gluten-free, grain-free, dairy-free recipe for the entire family to enjoy.
Coconut oil, which studies have shown can help our immune systems mount resistance to viruses, is one of the ingredients that gives this bread a moist, rich texture. Sweetened with honey and a bit of vanilla stevia, this makes an excellent after-camp snack for the kids or a summer evening dessert with a cup of Iced Ginger Chai.
ingredients
1 ¼ cups blanched almond flour
¼ cup cacao powder
¼ teaspoon celtic sea salt
½ teaspoon baking soda
2 large eggs
2 tablespoons coconut oil
¼ cup honey
¼ teaspoon vanilla stevia
¾ cup zucchini, grated
directions
In a food processor combine almond flour and cacao powder
Pulse in salt and baking soda
Pulse in eggs, coconut oil and honey, stevia, then zucchini
Transfer batter to a greased 6.5 x 4 inch baby loaf pan, dusted with almond flour
Bake at 350° for 35-40 minutes
Cool for 2 hours
Serve
makes 1 loaf

When one of my taste testers had a slice, he said the seldom-used word gormandize came to mind. As in he wanted to "gormandize" the entire loaf. I confess, although I have a decent vocabulary, I had not a clue as to what this word meant, though by the look on his face could tell it was not a bad thing.
The summer marches on and the zucchini will keep growing and growing some more, so stay tuned for more zucchini-licious ideas!
recipe courtesy elanaspantry.com