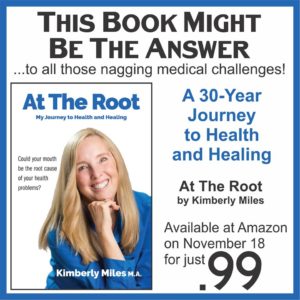 My friend Kimberly Miles, MA has published a book about her journey to health — through her mouth. Her story will be available on Amazon today for just $0.99 for the Kindle version, which you can view on your computer using Amazon's free Kindle app. I highly recommend taking advantage of this discounted offer, especially if you think your health issues might originate in your mouth as well. Her book is called At the Root: My journey to health and healing. We both had oral surgery with the same biological dentist in Mesa, Arizona so we share that connection. I met her right after I moved to Sedona, and it's been wonderful to witness her write her book and finally publish it. We all have a story to tell – her story might just help you with yours.
A description of the book from Amazon:
Kim had been an enthusiastic college student, creative, athletic and energetic. That changed in her junior year of college. After the removal of her four wisdom teeth, Kim began to suffer from unexplained health problems: recurring pneumonia, debilitating fatigue, brain fog, unexplained rashes and swollen lymph nodes that would not go away. Over the next thirty years her doctors would diagnose Kim with Chronic Fatigue Syndrome, Epstein-Barr virus and even lymphoma, but they did not really know. Kim shares her thirty-year journey to regain her health and vitality. Kim's belief in her body's ability to heal led her to work with a remarkable biological dentist. It was with the help of this controversial approach to dentistry that Kim's body could finally heal, restoring her to full health. Her revealing and intimate story portrays the little understood and overlooked importance that the mouth plays in over-all health and well-being. At The Root is Kim's story of the necessity to trust and believe in yourself. She reminds us of the importance of taking responsibility for our health as well as managing our own lives.
TESTIMONIALS
Kimberly shares her own inspiring story of the body's ability to heal itself, and how self-love and perseverance helped her to reclaim her health and her life. At The Root will inspire anyone to be a powerful advocate for their own healing.- Sarah McLean, Author, The Power of Attention: Awaken to Love and Its Unlimited Potential with Meditation
This book is packed full of critical information regarding the health of our mouths and our spiritual health as well. The mix in Kimberly's story of both physical health and spiritual connection is wonderful. – Debra Beck, Award winning Author and Mentor, My feet Aren't Ugly: A Girl's Guide to Loving Herself from the Inside Out
Reading this will open your eyes to the toxic world of hidden dental infections. Sometimes in your quest for health, you end up having to do all the research yourself. Kimberly had to learn what 99% of dentists do not learn in dental school. I applaud Kimberly for her willingness to share her story. – Dawn Ewing PhD, Doctor of Integrative Medicine, Executive Director, International Academy of Biological Dentistry and Medicine
At The Root highlights the problems that can occur when medical diagnoses miss the root cause. Kimberly's book details her determination to find and resolve her health issues. – Miranda Esmonde-White, Author of New York Times Bestseller, Aging Backwards: 10 Years Younger and 10 Years Lighter in 30 Minutes a Day