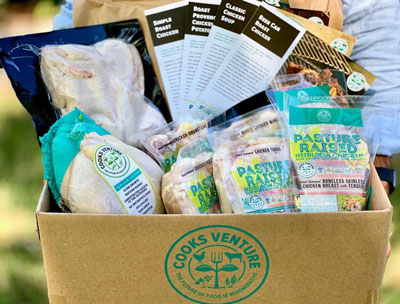 This month we are highlighting Cooks Venture, a company that champions regenerative farming by offering pasture-raised heirloom chicken, 100% grass-fed and grass-finished beef, 100% grass-fed and grass-finished lamb, heritage slow-growth pork, and wild-caught traceable seafood (coming soon). All shipped to your door under their guarantee: If you encounter any problems with your order, they ask that you reach out to them at support@cooksventure.com within 30 days of receipt and they will make it right!
Cooks Venture began on 800 acres of farmland in beautiful northwest Arkansas, where they partnered with third-generation poultry farmer Blake Evans and began growing their unique heritage chickens. They worked with regional crop farmers to grow feed using regenerative farming practices, while developing their chicken farm, hatchery, and processing plant to create their vision of a re-imagined meat industry. They continued to build relationships with cattle ranchers, pork farmers, and fishermen across the country and helped them to implement their regenerative systems to build soil fertility, sequester carbon, and create biodiversity. The land benefited and so did the animals — it's what gives their meat it's deep flavor.
Some of the standards upheld by the farmers and ranchers in their circle include:
Healthy chickens and beef raised without antibiotics
Ample space to roam and forage on natural pasture
Creating biodiverse, fertile soil through regenerative rotational grazing
Pasture-Raised, Grass-Fed, Grass-Finished Beef
Their cattle are raised on pasture with delicious flavor that you can feel good about eating. Product of New Zealand and United States (CA).
Cooks Venture cattle are grass-fed and grass-finished. They roam freely on pastures their entire lives, eating their natural diet of grass, which supports a regenerative grazing cycle, restores grasslands, and sequesters carbon. These rotational ranching practices lead to better land management, healthier soil and deeply flavored meat.
Grass-Fed & grass-finished
Humane treatment of cattle
No added hormones
Pasture-Raised Chicken
Their heirloom, slow-growth birds spend their days exploring the outdoors. Product of United States (AR).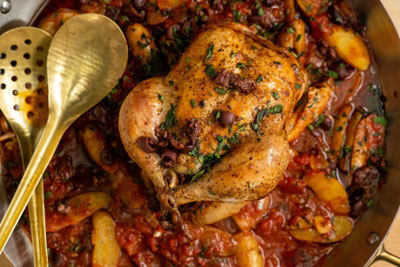 They claim this is the best chicken on the market because, at Cooks Venture, health and flavor come first for their pasture-raised birds.
Their livestock develops juicier meat that is deeply flavored and more tender than that of conventional chicken. They air-chill their birds, so the skin is crispier when cooked and the meat has a noticeably better texture. In 10 out of 10 blind taste tests, their chicken is preferred over the competition!
Decades of breeding & husbandry to develop their special heirloom breed
Unlimited outdoor access on their 800-acre farm in Arkansas
Non-GMO Project Verified feed
Air-chilled
No antibiotics ever
Pork
Their pork are raised outdoors with delicious flavor that you can feel good about eating. Product of United States (MO).
Cooks Venture Kurobuta pork is considered to be the pork equivalent of Wagyu beef. Created from the Berkshire pig, Kurobuta is a heritage breed that comes from Japan. This special breed is known for its deep flavor, marbled fat, and tenderness.
Their pigs roam outdoors and burrow in hay on a chilly night. This practice—allowing animals to live in their natural habitat of fields and forests—results in healthy, thriving pigs.
I've purchased chicken from Cooks Venture and it was delicious! Far better quality than what I usually buy at my local health food store. I have another order placed and cannot wait to receive it so I can get cooking!