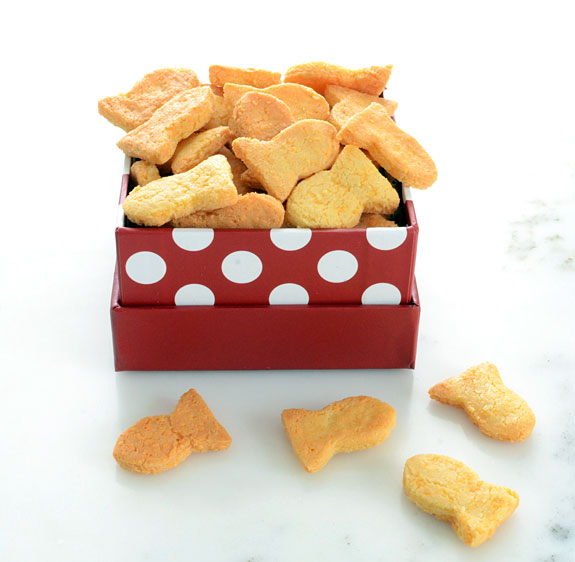 Homemade goldfish crackers are surprisingly easy to make. With just six healthy ingredients – almond flour, salt, baking soda, cheddar cheese, olive oil, and egg, they make a fantastic gluten-free snack for kids.
ingredients
1¼ cup blanched almond flour
⅛ teaspoon celtic sea salt
⅛ teaspoon baking soda
1 cup freshly grated cheddar cheese
1 tablespoon olive oil
1 large egg
directions
In a food processor, combine almond flour, salt, baking soda, and cheese
Pulse in oil and eggs until well combined
Divide dough into 2 pieces
Place 1 piece of dough between 2 sheets of parchment paper and roll to ¼ thick
Remove top layer of parchment paper
Use a goldfish cookie cutter to cut out little fish
Transfer goldfish to a parchment lined baking sheet
Roll leftover dough and place in refrigerator while repeating process with second piece of dough
Bake at 350 for 13-15 minutes
Serve
makes 75 goldfish crackers

As you might imagine, cutting out dozens of tiny goldfish crackers can take a bit of time. If you want to save time and would enjoy a cracker that is more like a Cheez-It, simply cut the dough into squares after you roll it out on the parchment paper, and then transfer the parchment paper (dough and all) to the baking sheet. Be sure to use organic dairy when you make this recipe. We use organic dairy in our house as it is better for the children, the cows, and our environment overall, and we do not wish to support the regular use of antibiotics in animal husbandry.
This low-carb goldfish crackers recipe is a bit sentimental for me since I grew up on the processed, packaged goldfish crackers as a kid. I love eating these high-protein goldfish crackers with chopped liver. It's quite a fatty and filling treat, which is a great thing for me!
recipe courtesy elanaspantry.com